Why WhatsApp is losing its popularity
LINE and Telegram are not just fads.
If you take a look at the Apple App Store or Google Play Store, you can find tons of messaging applications that you may not have heard of.
These messaging applications have changed the way people communicate with each other, and are responsible for making traditional text messaging obsolete. After all, usage of these applications is free as long as users have a data plan or internet connection, while traditional messaging is still chargeable.
These apps also gained popularity for their multitude of useful functions, including the option to send cute stickers in messages.
WhatsApp, which started in 2009, was one of the pioneers in providing a free data messaging service. Its founders, Brian Acton and Jan Koum, wanted to provide an alternative to SMS.
However, with the recent boom of free messaging applications, WhatsApp has lost some of its popularity. Competitors like LINE and Telegram are attracting more users all around the world.
Here are five reasons for their sudden popularity:
1. Secret chats
With this function, you can chat with your friends on Telegram or LINE, and your messages are destroyed within seconds. It is like the text messaging version of Snapchat.
This is great for a secret rendezvous or gossiping with your friends about your crush, without leaving any evidence.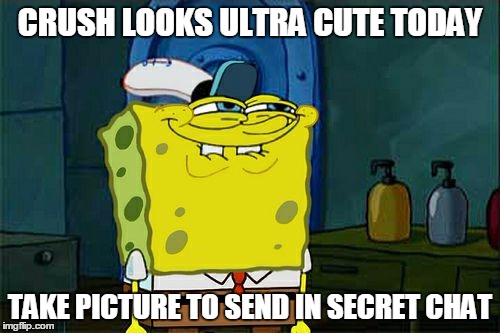 2. Group chats
Group chats are so much more effective when you need to convey information to many people. The group chat function on LINE is even better, because of its efficient memo system and simple interface. It is useful for work chats or project group chats.
In WhatsApp, group chats can host up to 100 people. In Telegram and LINE, group chats can contain up to 200 people, useful if you ever need to broadcast a message to your entire school cohort.
3. Stickers that are to die for 
One thing that sets LINE and Telegram apart from WhatsApp is their cute and adorable stickers that can be downloaded by users. I think Telegram stickers are the cutest and more personalised. You can even make your own set of stickers.
4. Web applications
Between the web versions of Telegram and WhatsApp, I think Telegram wins because you do not need to have your phone constantly connected. For example, if your phone is out of battery and you want to send a message through your laptop, you can do that through Telegram.
5. Sending a file no matter its type or size 
In WhatsApp, you are only allowed to send pictures or videos. However, Telegram and LINE allow you to send a wide variety of file types up to the size of a gigabyte.
This makes it convenient for those who need to send important documents from their phones, especially useful for those students who are constantly doing their project work or adults who complete a lot of work on the go.
While I may not necessarily quit WhatsApp, I use other messaging apps. Over time, if more of my friends convert to Telegram or LINE, I will seriously consider deleting WhatsApp. In the meantime, I guess I just have to be patient.